Holy Communion for Sunday, 3 May 2020 (Easter 4)
[You may follow this Service in whatever way you choose, but you might like to start by watching the video of the Bach organ prelude. The audio recording is in three parts; Part 1 – up to the end of the Gospel reading – is just below the video recording. When you scroll down to follow the words of the Service on screen you will come to the audio for the Sermon at the appropriate spot, and then the audio of the remainder of the Service is just below that. This is a Holy Communion service, so if you are going to take Communion, have your symbolic bread and wine ready.]
[The video recordings of all the music for this Service can also be viewed here: Music videos for Sunday, 3 May 2020.]
Organ Prelude: Liebster Jesu, wir sind hier (J.S. Bach)
Call to worship
Jesus says: I am the gate. Come, and be loved.
Come, and receive peace. Come, and find life.
Good morning my dear friends:
God is good?
All the time.
And all the time?
God is Good.
How wonderful for us to connect again in worship this Sunday morning. Indeed, God is good!
Please join me in the responses to the opening words…
Opening Responses
Hail to the Lord of Life,
who animates and inspires us
through the wind of the Spirit.
Alleluia! God is good.
Hail to the Lord of Life,
who turns despair into joy
and death into dancing.
Alleluia! God is good.
Hail to the Lord of Life,
who transforms darkness into light
and sends the Spirit to guide us on.
Alleluia! God is good.
Praise and glory to God,
who raised Jesus from death,
and gives us eternal hope
in the face of darkness and defeat.
Amen
Let's have a moment of silence for reflection.
[…]
Remember and silently offer thanks for all the ways that the Lord provides for you …
Rejoice in the rest God offers you in his presence …
Commit yourself to be guided by God, to trust in his wisdom …
Open yourself to the generosity of God's love –
beyond measure,
beyond words,
beyond our imagining …
Praise God that in times of joy and celebration, he is with us
and  in times of sadness, confusion, loss, national or global crisis as we are experiencing now;
he is at our side!
For all time, and in whatever we face,
the Lord is our shelter, our security,
the place where we will find a home.
Thanks be to God.
Amen
Hymn: How sweet the name of Jesus sounds
How sweet the name of Jesus sounds
in a believer's ear!
It soothes our sorrows, heals our wounds,
and drives away our fear.
It makes the wounded spirit whole,
and calms the troubled breast;
'tis manna to the hungry soul,
and to the weary rest.
Dear name! the rock on which I build,
my shield and hiding-place,
my never-failing treasury filled,
with boundless stores of grace.
Jesus! My Shepherd, Brother, Friend,
my Prophet, Priest, and King,
my Lord, my Life, my Way, my End,,
accept the praise I bring.
Weak is the effort of my heart,
and cold my warmest thought;
but when I see thee as thou art,
I'll praise thee as I ought.
Till then I would thy love proclaim
with every fleeting breath;,
and may the music of thy name
refresh my soul in death.
John Newton (1725–1807)
CCL Licence No. 31580
Prayer of the Week
Read by Cheryl Montgomery
Safe in your hand, O God,
is the flock you shepherd
through Jesus your Son.
Lead us always to living waters
where you promise respite and refreshment,
that we may be counted among those
who know and follow you.
we ask this through Jesus Christ, the resurrection and the life,
who lives and reigns with you in the unity of the Holy Spirit
God for ever and ever.
Amen
Psalm 23
Read by Kate Abrahams
1 The Lord is my shepherd, I shall not be in want.
            2 He makes me lie down in green pastures,
he leads me beside quiet waters,
            3 he restores my soul.
He guides me in paths of righteousness
            for his name's sake.
4 Even though I walk
            through the valley of the shadow of death,
I will fear no evil,
            for you are with me;
your rod and your staff,
            they comfort me.
5 You prepare a table before me
            in the presence of my enemies.
You anoint my head with oil;
            my cup overflows.
6 Surely your goodness and love will follow me
            all the days of my life,
and I will dwell in the house of the Lord
            for ever.
This is the word of the Lord.
Thanks be to God.
Hymn: In heavenly love abiding
In heavenly love abiding,
no change my heart will fear;
and safe is such confiding,
for nothing changes here:
the storm may roar without me,
my heart may low be laid;
but God is round about me,
and can I be dismayed?
Wherever he may guide me,
no want shall turn me back;
my Shepherd is beside me,
and nothing can I lack:
his wisdom ever waketh,
his sight is never dim,
he knows the way he taketh
and I will walk with him.
Green pastures are before me,
which yet I have not seen;
bright skies will soon be o'er me,
where darkest clouds have been;
my hope I cannot measure,
my path to life is free;
my Saviour has my treasure,
and he will walk with me,
and he will walk with me.
Anna Laetitia Waring (1820–1910)
CCL Licence No. 31580

John 10: 1–10
Read by Joseph Adomako
The good shepherd and his sheep
1 'Very truly I tell you Pharisees, anyone who does not enter the sheepfold by the gate, but climbs in by some other way, is a thief and a robber. 2 The one who enters by the gate is the shepherd of the sheep. 3 The gatekeeper opens the gate for him, and the sheep listen to his voice. He calls his own sheep by name and leads them out. 4 When he has brought out all his own, he goes on ahead of them, and his sheep follow him because they know his voice. 5 But they will never follow a stranger; in fact, they will run away from him because they do not recognise a stranger's voice.' 6 Jesus used this figure of speech, but the Pharisees did not understand what he was telling them.
7 Therefore Jesus said again, 'Very truly I tell you, I am the gate for the sheep. 8 All who have come before me are thieves and robbers, but the sheep have not listened to them. 9 I am the gate; whoever enters through me will be saved. They will come in and go out, and find pasture. 10 The thief comes only to steal and kill and destroy; I have come that they may have life, and have it to the full.
NIV®
This is the Gospel of Christ.
Thanks be to God.
Sermon by Revd Ernesto Lozada-Uzuriaga
Continuation of Service
Musical meditation: Ubi Caritas et Amor
Intercessions
By David Moore
The Gospel text for today is:
I am the good shepherd; the good shepherd lays down his life for the sheep.
Father of our Lord Jesus,
Hear our Prayer.
Jesus the Good Shepherd,
Hear our Prayer.
Let us pray.
We give thanks for the community of Faith to which we belong and for the rich diversity of faith and culture within this city. May all communities of Faith bear witness in ways that support and cherish the religious tolerance and diversity of our times.
Glory, Glory, Glory to God!
Glory to God, Glory to God!
We pray for all those who are living alone at this time, especially for those who require assistance in managing the practical tasks of daily life.
Lord hear us;
Mercifully hear us.
We pray for parents who are at a distance from their children and for wives and husbands, brothers and sisters who are separated for whatever reason. We do, however, rejoice in the glory of the telephone.
Lord hear us;
Mercifully hear us.
We give thanks and pray for all those whose work is to care; for the frail, for the impaired, and for those whose lives are lived permanently in bed.
Lord hear us;
Mercifully hear us.
We pray for those whose only home is on the streets or a temporary Night Shelter. Raise the levels of our intolerance that such squalor continues to exist. Give us a voice that speaks for them.
Lord hear us;
Mercifully hear us.
God of mercy, many of us have grown up taking personal mobility, travel and adventure as normal and now find ourselves living on a greatly restricted playing field.
Lord hear us;
Mercifully hear us.
Heighten our sensitivity towards those around us during these difficult times. Help us to make eye contact with those we recognise but do not know … that the seeds of hope may even now emerge among us.
Lord hear us;
Mercifully hear us.
We pray for all people in the caring professions, especially those in health and social services. For Doctors, Nurses, Health Visitors, Therapists, Cooks, Cleaners, Waste Disposal Operatives, Window Cleaners and Undertakers.
Lord hear us;
Mercifully hear us.
And, as some sort of a PS: Good Lord help us, in one way or another, to find a way of doing a good deed every day.
We all say Amen.
Amen!
Then Amen it is!
Amen!
Holy Communion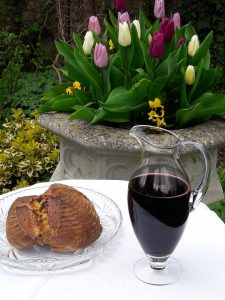 Brothers and sisters in Christ,
the gospels tell us that on the first day of the week,
the same day on which our Lord rose from the dead,
he appeared to his disciples and was made known to them in the breaking of the bread.
Gather then wherever you are around the symbols of bread and wine
and let us too partake in this holy meal!
The Lord be with you all.
And also with you.
Lift up your hearts.
We lift them up to the Lord.
Let us give thanks to the Lord our God.
It is right to give him thanks and praise.
It is indeed our joy and delight
in all places and at all time
to give thanks to you,
Almighty and Everlasting God, through Jesus Christ our Lord.
For he is the true Lamb who has taken away the sins of the world.
By his death he has destroyed death for us.
By his rising again, he has restored life to us.
Therefore, with the whole company of saints
in heaven and on earth we worship and glorify you,
God most holy, and we shout with joy saying:
Holy, holy, holy, Lord,
God of power and might.
Heaven and earth are filled with Your glory.
Hosanna in the highest.
Blessed is He who comes in the name of the Lord.
Hosanna to God in the highest.
We give thanks to God the Father that our Saviour, Jesus Christ,
gave us this memorial of his sacrifice, until his coming again.
On the night of his betrayal, the Lord Jesus was at super with friends
when he took bread, and when he had given thanks, he broke it and said:
'This is my body which is broken for you;
take and eat in remembrance of me.'
In the same way after super he took the cup of wine
and once again gave you thanks and he gave it to them saying:
'Take and drink from it all of you:
this cup is a new covenant between you and my father
sealed in my blood which will be poured for you and for all.
Do this as often as you drink it, in remembrance of me.'
Your death, O Christ, we proclaim.
Your resurrection we affirm with joy.
Your coming again we await with hope.
Glory be to you, Lord Jesus.
Alleluia!
Amen
Prayer of Consecration
Loving God, send your Holy Spirit upon us,
that the bread which we break may be to us
the communion of the body of Christ,
and the cup which we bless the communion of his blood.
Grant that we who partake in this meal
may be found worthy after our life here on earth
to sit at the banquet upon his return.
Amen
So now, following Jesus' example and command,
we take the bread and the wine,
the ordinary things of the world
which Christ will make special.
And as he said a prayer before sharing,
let us pray the prayer in the manner he taught the disciples:
The Lord's Prayer
Our Father in heaven,
hallowed be your name,
your kingdom come,
your will be done,
on earth as in heaven.
Give us today our daily bread.
Forgive us our sins
as we forgive those who sin against us.
Lead us not into temptation
but deliver us from evil.
For the kingdom, the power,
and the glory are yours
now and for ever.
Amen
Please eat the bread now with these words:
The body of Christ; broken for our sins.
Amen
Please drink the wine with these words:
The blood of Christ shed for our sins.
Amen
Prayer
Let us pray.
Almighty and everlasting God,
we thank you for feeding us with the spiritual food
that symbolise the body and blood our Lord Jesus Christ;
and for assuring us in these holy mysteries
that we are living members of your family through your Son,
and heirs of your eternal kingdom.
To the Trinity, be honour and glory, now and for evermore.
Amen
Hymn: The Lord's my shepherd
The Lord's my shepherd, I'll not want.
He makes me lie in pastures green.
He leads me by the still, still waters,
His goodness restores my soul.
And I will trust in You alone,
and I will trust in You alone,
for your endless mercy follows me,
Your goodness will lead me home.
He guides my ways in righteousness,
and He anoints my head with oil,
and my cup, it overflows with joy,
I feast on His pure delights.
And I will trust in You alone,
and I will trust in You alone,
for your endless mercy follows me,
Your goodness will lead me home.
And though I walk the darkest path,
I will not fear the evil one,
for You are with me and Your rod and staff
are the comfort I need to know.
And I will trust in You alone,
and I will trust in You alone,
for your endless mercy follows me,
Your goodness will lead me home,
Your goodness will lead me home.
Stuart Townend (1996)
CCL Licence No. 31580
Blessings and dismissal
And now, my dear sisters and brothers,
we have come to the end of this service.
So, go out into the world if you must,
stay in and meditate as the spirit leads you.
Serve God in whatever way you can
and however the spirit leads you, and whatever you do;
remember that God loves you and is with you!
And may the blessings of God Almighty,
the Father, the Son and the Holy Spirit,
rest and remain with us, today and always,
helping us to overcome.
Amen
Organ Postlude: Gelobt sei Gott (Healey William)
[The video recordings of all the music for this service can also be viewed here: Music videos for Sunday, 3 May 2020.]