Lent 2017 Meditation 1
The Gift of Giving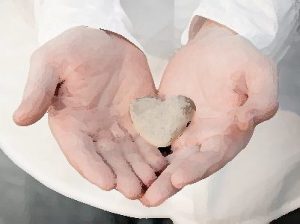 Lent Meditations
by Revd Paul Le Sueur
Lent 1

The Gift of Giving – Introduction
The slogan for Islam is 'God is great,' and that is true. God is greater than the Universe with its thousands of millions of planets, stars and galaxies. The very size of the Universe can seem intimidating and prompts those of an agnostic or atheist mindset to proclaim how unimportant we and our planet are; a mere speck of transient dust in the great scheme of things. However, the slogan for Christianity is 'God is Love,' and John 3:16 puts it this way: 'God loved the world so much that he gave his only Son, that everyone who has faith in him may not die, but have eternal life.' God who is greater than the whole Universe holds us and our world in his love, and has given us the greatest gift of all in Jesus Christ. As we ponder our Lenten theme of 'the Gift of Giving', let us hold in mind that this is our response to God's gift to us. Jesus was born FOR US; he lived and taught and healed FOR US; he died and rose again FOR US; he ascended and sent his Holy Spirit FOR US.
Questions to consider
Which of Jesus's parables speaks most to you of God's love? And why?
Does God love torturers, rapists or paedophiles as much as ordinary sinners?
You may choose to consider these questions as a group, with friends or on your own. If you want to discuss any aspects further, either discuss them with your group leader or contact one of the ministers.
Prayer
Father God, open our hearts and minds to the height and depth and length of your love for all humanity – including me.
Amen
Imagine …
'The eternal God is your refuge and underneath are the everlasting arms.' Imagine yourself lying still in he outstretched hands of God.
This meditation is available to download as a PDF here: Lent 2017 Meditation 1.